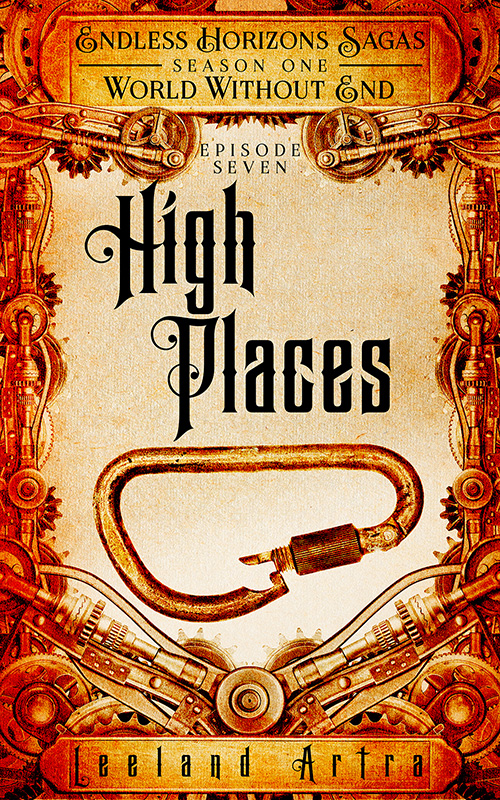 World Without End
Endless Horizon Sagas
Scifi, Fantasy, Steampunk
Episode 7 – High Places
Imperial Astrologer Optimus, Duchess Janali Jedalor and her trusted second, merchant marine navigator Lieutenant Metallo are on a mission to exonerate themselves of all rumors of heresy for claiming their ship, the Vibrius, traveled beyond the edge of the world. Even with a writ of indulgence, Janali is worried she will not be able to gather enough evidence to remove all doubts. Metallo, as the navigator that took the navigational readings, knows his life and career depend on Janali's success. Both of them are nervous under the constant scrutiny of Holy Father Balius, a senior priest of the Star Empresses' Church's inquisitors assigned by the head of the church to witness Janali's work.
Janali's developed a series of experiments that require long-range observations to prove that where the Vibrius went is within the accepted limits of the world described in the Holy Scrolls. But, this requires building an observation platform near the summit of the tallest mountain in the world, Mount Terrat. Janali, Metallo, and Balius have to master high altitude climbing, carry the materials up the mountain with the army soldiers at Janali's command, and build the observation station. The trek tests everyone's resolve and strength as they fight the mountain, time, and weather, and a surprising miracle by the Star Empresses marks Lady Janali for greatness. Holy Father Balius begins to question his superiors once he sees the blessing bestowed upon Janali. How could someone blessed by the Empresses carry the void within?
Author Leeland Artra has created a new and engaging series that is sure to captivate old readers and hook new ones. This new series is called the Endless Horizon Sagas, and it includes content that is sure to surprise and enthrall all readers.
The new series springs from the timeline and multiverse of the Golden Threads Trilogy. Fans of the Golden Threads Trilogy are sure to recognize familiar elements in the writing, but most similarities end here. The series is about a brand new set of characters led by a new female protagonist called Janali, and a totally different flat discus shaped world called Terra. This makes it the perfect springboard for both new and older fans of Artra's work.
It is Artra's first foray into the world of the Steampunk genre and he rises to the challenge. Both old and new readers will immediately be drawn into the world of Terra and the struggles of Janali. Here they will find that, although Terra is a very fascinating world with its unique shape, it is also a very harsh and oppressive world, with forces that Janali must overcome—including a very powerful and entrenched church. Janali will have to overcome this and many other obstacles in her path towards fulfilling her destiny. The world of Terra holds many dangers and conflicts from all fronts, including tensions between the ruling noble class and a rising business class, a world that is composed of simple technology and magic, and even some dragons along the way!
Some of the chapters are available as free episodes, just to give readers out there a taste of the true potential of the series. The other episodes are available for patrons. After getting the free episodes you are sure to order the rest, as the story of Janali and her troubles in her home world of Terra won't fail to draw you in.
Artra confesses that, while writing his other books, the idea of making a Steampunk novel was always there. After a lot of thinking and introspection, he finally decided to make his dream a reality, and Endless Horizons Saga was born.
The books promise to be a series of easy-to-follow, standalone books. Each is self-contained and have no cliffhangers, making them easy to read and pick up. However, they will leave you looking for more and will surely entice you to follow the entire series. It is also a culmination of the author's dream to finally write some stories about the unique Steampunk genre. This gives him a lot of creative freedom, along with a new platform to play with. The Endless Horizons Saga promises to give you a whole new perspective on the Niya-Yur universe, so be sure to check them out!
About the Author
I tend to write epics in science fiction and fantasy primarily. However, I have done some shorts in dark fantasy, fantasy comedy, science fiction comedy, and role playing gaming modules. After over twenty years of thinking I should publish I finally got myself organized and seriously started forging my notes into complete books. I haven't had time yet to hammer out any of my short stories as I am spending all my spare time working on my larger stories. You can follow up on any of my works here as I will keep this site up to date on my projects, their progress, and eventually where they were published.
My goal is to transition to full time writing someday. In the mean time I continue to hold a day job as software engineer and architect. I am also publishing many of my programming works through a more geeky web site called Natural Order Development (http://nodsw.com) (link is external). I have been working with computers for nearly three decades so it isn't likely I'll ever stop. Writing stories and code are my primary hobbies as well as my profession.
I live in the Emerald City in the Great Pacific Northwest with my wife and son.
While you're here, please check out my available works, my current projects, and browse around. I'll try to post new blogs as often as I can given that most of my spare writing time is dedicated to my works in progress.
If you have a question or comment please email me or comment here I'd love to hear from you! You can find me on Facebook at http://on.fb.me/VNjyZx (link is external) and Twitter at http://bit.ly/WZvVP4 (link is external)
Thanks for stopping by!
282 total views, 0 views today